Replacement Options - Types of Flat Roof

In the event your roof cannot be rehabilitated we can work with you to select and install one of the following roof systems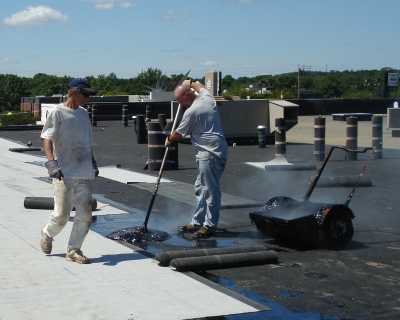 BUR - Built Up Roof (Tar & Gravel)
A built-up roof (Smooth Built-Up, Ballasted Built-Up, or Tar and Gravel) is a class of low-slope roof that consist of laying down several layers of tar and water resistant materials and then covered with gravel.
Many old buildings with low slope or flat roofs are topped with built-up roofing made from layers of asphalt-coated roofing felt. The top layer is usually covered with rock or gravel, which serves as a ballast to hold the roofing material down and protect it from UV damage. Built-Up Roofs with gravel surfacing are also known as Tar and Gravel roofs. Typical life span of a built-up roof is 10 to 20 years depending on weather conditions.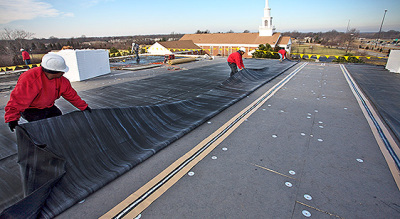 Ethylene Propylene Diene Monomer (EPDM) is durable and resistant to general wear and tear and an excellent material for low slope roofing applications. EPDM roofing is a synthetic rubber that acts as a roofing membrane special for flat roofs.
One of the longest lasting types of commercial roofs available, EPDM commercial roofing systems are also typically easier to install, maintain and repair than most other types of commercial roofs.